Back To Our Services
We are a company that offers a variety of home lock and rekey services to residences in Cypress. From repairing of your main door's cylinder lock to the one found in your wardrobe safe, from replacement of window clasps to cabinet clips, our technicians are experienced in carrying out all sorts of services.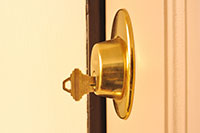 Although uncommon, it cannot be predicted when one will get locked out of one's own house. It can occur when you are returning from work and your spouse and kids are away or when you are coming back home after a week-long holiday – in all such situations, it is reassuring to have a friendly locksmith on standby, always, regardless of time and place. We consider ourselves as a company which always has a team of skilled technicians ready to help you in your emergency situation. It is this extra mile that we go to in order to serve our customers which has helped us to become one of the most sought-after residential locksmith companies in the city.
Don't Ever Get Locked Out!
Our 24-hour services will ensure that you never get locked out of your house. And even if you do, we make sure you get immediate support from our dedicated team of technicians.
Since we deal with some of the best lock brands in the world, our services consist of high-end home security systems that can be installed in your house. The highlight of such systems is that, in addition to keys, they also have a keyless (and cardless) access feature which you can activate if you ever misplace your keys. And why not go a notch higher and get smartphone-based security systems? We have them all and we have them right here. Just call our technicians and we will arrive at your doorstep in no time.
The Best Residential Locksmith Brands
As stated before, we only deal with the best and the most popular brands in the market. Since locks also need to look stylish, we do not settle for inferior-quality products. Companies like Master, Assa Abloy, Baldwin, and Schlage are famous for both their aesthetics and technology – a combination that helps us in our collective attempt to make the world a safer and better place.
For all queries regarding residential services, you can contact Locksmith Cypress. Reach us via our website or by giving us a call.
Back To Our Services